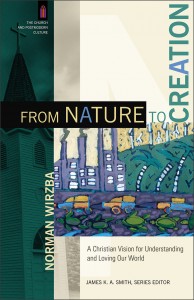 My introduction to Norman Wirzba's work came a few years ago when I read his incredible "Food and Faith." Seeking to do some research on the topic I saw the title of his book and decided to pick it up. I was pleasantly surprised at the deep level theology and philosophy that was being written. I was excited when I saw the current title being released and am thankful to be able to review it. (Thanks to Netgalley for the review copy).
In "From Nature to Creation," Wirzba does not disappoint. In reading this book I was reminded again what an important voice Wirzba is to the church. His theology is, quite literally, on the ground. It impacts and challenges us at the core levels of our humanity. By engaging the question of what it means to be a human creature, Wirzba explores the questions that are fundamental to the flourishing both of humanity, but also the world. In his words, "To ask about who we are is also to ask about how we are to live where we are. The question of 'who?,' in other words, is not theorized in the abstract. It is worked out and discovered in economic and social patterns of life practiced in the world." He explores the the importance of seeing the world in the right way, since how we see "is an imposition of ourselves upon what is seen." Related to how we see is how we name, and how we name something will inevitably determine our relationship with it.
In the second chapter Wirzba offers a sharp challenge to the development of nominalism and there, as well as in the final chapter, confronts any knowledge that is not rooted in relational intimacy. Such thinking ultimately leads us away from transcendence and towards idolatry. To return to understand creation in the right way means, ultimately, a return to Jesus. "Creation, we might say, flows from Jesus at its beginning, flows through Jesus as it is healed, and flows to Jesus as it is fulfilled. Jesus is the pivot of the universe's movement and the key to its deep meaning and significance."
Wirzba makes a compelling case for an agrarian reading of Genesis and engages wonderfully here with Bonhoeffer. I was also drawn to his writing on the embrace of human limit. Finally, his dealing (in the final chapter) with gratitude and a proper understanding (challenging Derrida) of gift were incredible.
One leaves this book reminded of the immensity of the gospel and challenged that mission is deeper than we often assume, and yet right under our feet.
5 stars.