"Revelation presents God as the one who reigns through the Lamb, not in spite of the Lamb. 'Lamb power' is 'God power,' and 'God power' is 'Lamb power.'"
-Michael Gorman
"Our Lamb has conquered; let us follow him"
-The Moravians
After my last post regarding the peaceful, albeit provocative non-violent teachings of Jesus, I had a few people ask me about the infamous "White Horse" in the book of Revelation. How does the image of bloody-robed Jesus wielding a sword fit with the non-violence that I, and others, are claiming is central to the gospel? It's an important question to ask so I thought I would write a follow-up post addressing it. But I realized that a preliminary post would help to address an earlier image in Revelation that is necessary to understanding the book as a whole. So, I'll do my best to tackle the "white horse" in the next post, while for now we'll look at the two central images in Revelation 4 and 5 that provide the key to help us interpret the rest of the book.
Revelation is interesting, to say the least. In some ways it seems so foreign to the rest of the New Testament with all of it's beasts, wars, and dragons. Yet, for all all of it's strange imagery, G. K. Chesterton once quipped that "though St. John the Evangelist saw many strange monsters in his vision, he saw no creature so wild as one of his own commentators." Scholar Eugene Boring, in a similar tone, writes that "no other part of the Bible has provided such a happy hunting ground for all sorts of bizarre and dangerous interpretations." Indeed. But here is the good news–Revelation is a book about, well, good news. It is a book about the peace and justice that has always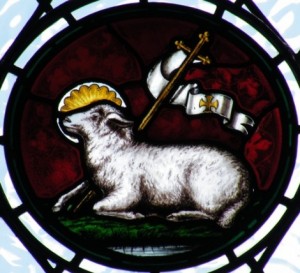 been spoken of by the prophets, and about our triumphant King Jesus. But the immediate danger of writing the words "triumphant King" is that we can quickly begin to form images in our mind of what a triumphant king looks like that may be quite different, or even opposite, of what the text describes. (In the next post I will address some of the images we find in "Christian art" that will demonstrate how quickly we move from the actual image that the text describes to the image that we, due to how we've been conditioned to think, picture in our minds).
In this season of Advent we hear a lot about the baby Jesus. 'How beautiful,' we say, 'that God would become like us – a baby, manger born.' If you are in church during this time of year you will probably hear the words "Humble King." But if you hang around long enough you will realize that we don't allow that image to linger for too long in our minds, our conversations, or even many of our pulpits. We begin to say something else. Something like this, perhaps: 'Jesus may have come the first time as a Lamb, but he is coming again like a conquering Lion!' Notice that in that catchphrase one image (Lion) seems more powerful than the other (Lamb). You may be surprised to learn that Jesus is never pictured as a Lion in the book of Revelation. Not even once. He is, however, referred to as a Lion one time. The context is this: a door is open in heaven and John is invited up (Revelation chapter 4). He is "in the Spirit" (v2) and describes the incredible scenery. We soon realize that John is in the middle of a worship service in heaven. The One that heaven and earth are worshipping is on a throne. The "throne" is one of the most important images in the book of Revelation. The word throne is used 43 times in Revelation, and 19 times in the two chapters that we are looking at currently. While chapter 4 is describing the worship that is happening, in chapter 5 we are faced with an almost immediate dilemma: there is a scroll with 7 seals, but no one in heaven is worthy to open them. This is such an intense moment that John "wept and wept because no one was found who was worthy to open the scroll or look inside." But just as John is weeping, one of the elders says to him, "'Do not weep! See, the Lion of the tribe of Judah, the Root of David, has triumphed. He is able to open the scroll and its seven seals'" (v5). This is what we've been looking for, isn't it? The Lion that has triumphed. Oh, but we're in for a surprise, for when John looks he doesn't see a Lion at all, He sees a Lamb!
"The I saw a Lamb, looking as if it had been slain, standing in the center before the throne, encircled by the four living creatures and the elders" (v6).
John is told to behold the conquering Lion, but when he looks he sees a Lamb, "as if it had been slain." The Lion is not mentioned again. The word "Lamb" however, appears 28 times. These are the two words that dominate Revelation: throne and Lamb. More on that in a minute. First, why did the elder say Lion when it was actually a Lamb. Michael Gorman in his book "Reading Revelation Responsibly" writes that both titles that the elder uses – "Lion of the Tribe of Judah," and "Root of David" are both "images of messianic power and rule." That is the context, power and rule. And what do we get when we look at God's "power and rule?" A bloody Lamb. The conquering Lion is a slain Lamb. That is the picture we have of the One Who has "triumphed." Look at the songs that are sung about about the Lamb:
"You are worthy to take the scroll
and to open its seals,
because you were slain,
and with your blood you purchased for God
members of every tribe and language and
people and nation.
You have made them to be a kingdom
and priests to serve our God,
and they will reign on the earth." (vv9, 10)
"Worthy is the Lamb, who was slain,
to receive power and wealth and wisdom and strength
and honor and glory and praise!" (v12)
While we read that the two titles are images of "messianic power and rule," the frequent throne language is similar. Here Gorman quotes another scholar (Mitchell Reddish) who says that "the throne represents the power and rule of God. By emphasizing the throne, John is pulling back the curtain and showing his reader the true locus of the world's power." We realize that these two images – throne and Lamb – belong exactly together. In chapter 5 the Lamb appears "in the center before the throne" (v6), and then in verse 13 we see that the worship is directed "to him who sits on the throne and to the Lamb."
The point is clear, the power of God that we see in the book of Revelation is what Gorman calls "Lamb power." As noted in the opening quote, Gorman writes that "Revelation presents God as the one who reigns through the Lamb, not in spite of the Lamb. 'Lamb power' is 'God power,' and 'God power' is 'Lamb power.'" Brad Jersak agrees:
"Christ rules exclusively through the cruciform [cross shaped] power of love–not like worldly powers that rule by force. God's rule is active in the world. But he only rules though the consent of his self-giving Son and through his Son's willing disciples. He makes them into 'a kingdom of priests…who shall reign on the earth' (Rev. 1:6). But their reign, like his, is exclusively through servant love ('by the blood of the Lamb and the word of our testimony' Rev. 12:11) for the restoration of all things in Christ."
Revelation is about power and, to be sure, judgement. But it is "Lamb power" that we read about, and it is Lamb power to which we are called. Further, it is Lamb power that is the key to understanding the book of Revelation. Again, Gorman writes,
"we must stress that only when chapters 4 and 5 are read as Revelation's hermeneutical [i.e. how we interpret] key to reality, divinity, history, and ethics will we be able to place the visions of judgment in proper perspective.
So, in the next post we will look at a vision of judgment in Revelation 19. But as we do, we must remember that chapters 4 and 5 are crucial in helping us understand this judgement that we will be exploring.