Norman Wirzba is a brilliant, and in my opinion under appreciated theologian. He is the professor of theology and ecology at the prestigious Duke University and has authored several books. Prior to reading "Way Of Love" I had read "Food and Faith" and "From Nature To Creation" which were both incredible works of theology from an ecological perspective. Wirzba's engagement with (and at times critique of) philosophy and postmodern culture/thought are highly compelling. The way he is able to challenge the reader intellectually (among other ways) on topics such as food or gardening, for example, is amazing. I still feel many of the challenges that were opened to me upon reading "Food and Faith." Still, not every reader will sift through a critique of Derrida's understanding of gift (From Nature To Creation). This is, of course, okay since not every book is written for everyone. But in "Way Of Love" Wirzba has managed to take important theological and philosophical concepts (that are expounded upon more fully in his other writings) and make them extremely accessible. Not only has he managed to do it, however, he has done it extremely well.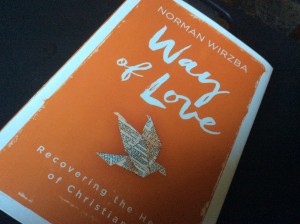 "Way Of Love" is gospel. There are 5 sections to the book: Christianity as Love, Creation, Fall, Redemption, and Hope. Right out of the gate Wirzba makes the irresistible case that "Christianity is best understood as a training ground in the ways of love" (4). Anything short of this is a disaster. He then moves through a wonderful explication of creation, spelling out the deep implications of doctrines such as creatio ex nihilo (creation from nothing) in a way that even a person who has never read theology could grasp. What a gift to be able to write on the beauty of creation as the outflow of Trinitarian love (which he terms ex amore) in such a way that almost anyone could grasp. The book continues on in this way weaving in incredible (albeit sometimes painful) stories written in a style reminiscent of Philip Yancey, or other master story tellers.
At the end of the day my main praise for this book is that it is a beautiful account of the beautiful gospel. If someone were to ask me, "what is the gospel?" I would have no problem buying them a copy of this book and asking them to coffee so we could discuss it. In a day when many inside the church have lost the beauty (and love!) of what the gospel is, this book should help the church at large and inspire us in the Way that is the gospel. I was thankful to see this on the shelves at Barnes and Noble today and hope that it makes it's way onto the bookshelves of many.
5 Stars