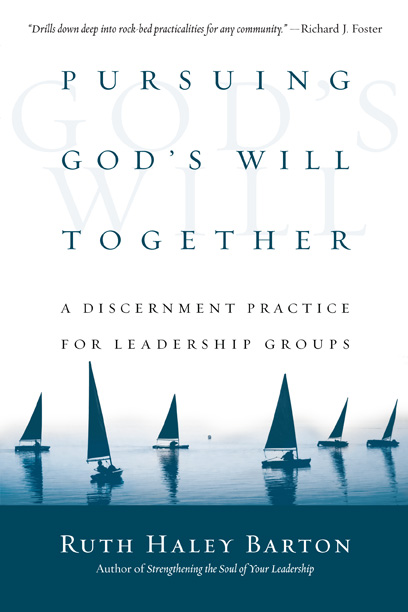 Initially I bought this book to read with my wife. We are not trying to discern anything specific at the moment, but are interested in disciplines that will help us to practice hearing God's voice together. It wasn't long into my reading that I realized that the book, as the subtitle suggests, is better suited for leadership groups. There are several practices that couples can apply, but the material is mainly tailored for a larger group.
I've read several books on spiritual disciplines and practices, but the unique thing about this book (as the title implies) is it's focus on how to practice hearing God's voice in community. The first section of the book (which is far longer than the second) focuses on personal disciplines. The author states, "corporate discernment begins with attending to the spiritual formation of each individual leader". The author has written elsewhere about personal spiritual disciplines, but here writes uniquely in the context of a Christian leadership community. Barton challenges gift based ministry:
people rise to leadership in our society based on their extroversion, which means they have a tendency to ignore what is going on inside themselves. These leaders rise to power by operating very competently and effectively in the external world, sometimes at the cost of internal awareness. 
Not only does she challenge the individual, she also challenges the basis on which most leadership groups make decisions. If "the foolishness of God is wiser than human wisdom" (I Cor. 1:25) than we should not be steering our churches, non-profits, etc. in the direction of what "makes sense to us". The basic premise of the book is that the only thing that sets Christian leadership groups apart from any other leadership group is discernment – the purposeful listening to what God's Spirit is saying. "This approach to leadership presents unique challenges because it requires us to move beyond reliance on human thinking and strategizing to a place of deep listening and response to the Spirit of God within and among us".
Barton writes brilliantly about church leadership dynamics and challenges readers with a better vision for what Christian leadership should look like. I really think this book is very important for anyone (senior leaders in particular) who serves within the local church or within a Christian leadership group of any sort. She brings a unique and timely focus, but her wisdom is very rooted within both monastic and quaker traditions. Upon reading I realized two things: first, the need for us to follow God's leading rather than our own wisdom seems obvious, and second; few of us are doing it and most of us don't even know where to begin. This book offers a way forward.